Celebrating Kids & Family
Pinot's Palette La Vista is for kids and families too! In addition to our fun adult painting events, we celebrate kids and families! We have Little Brushes/Family paintings, Birthday Parties, & Summer/Winter Kids Camps.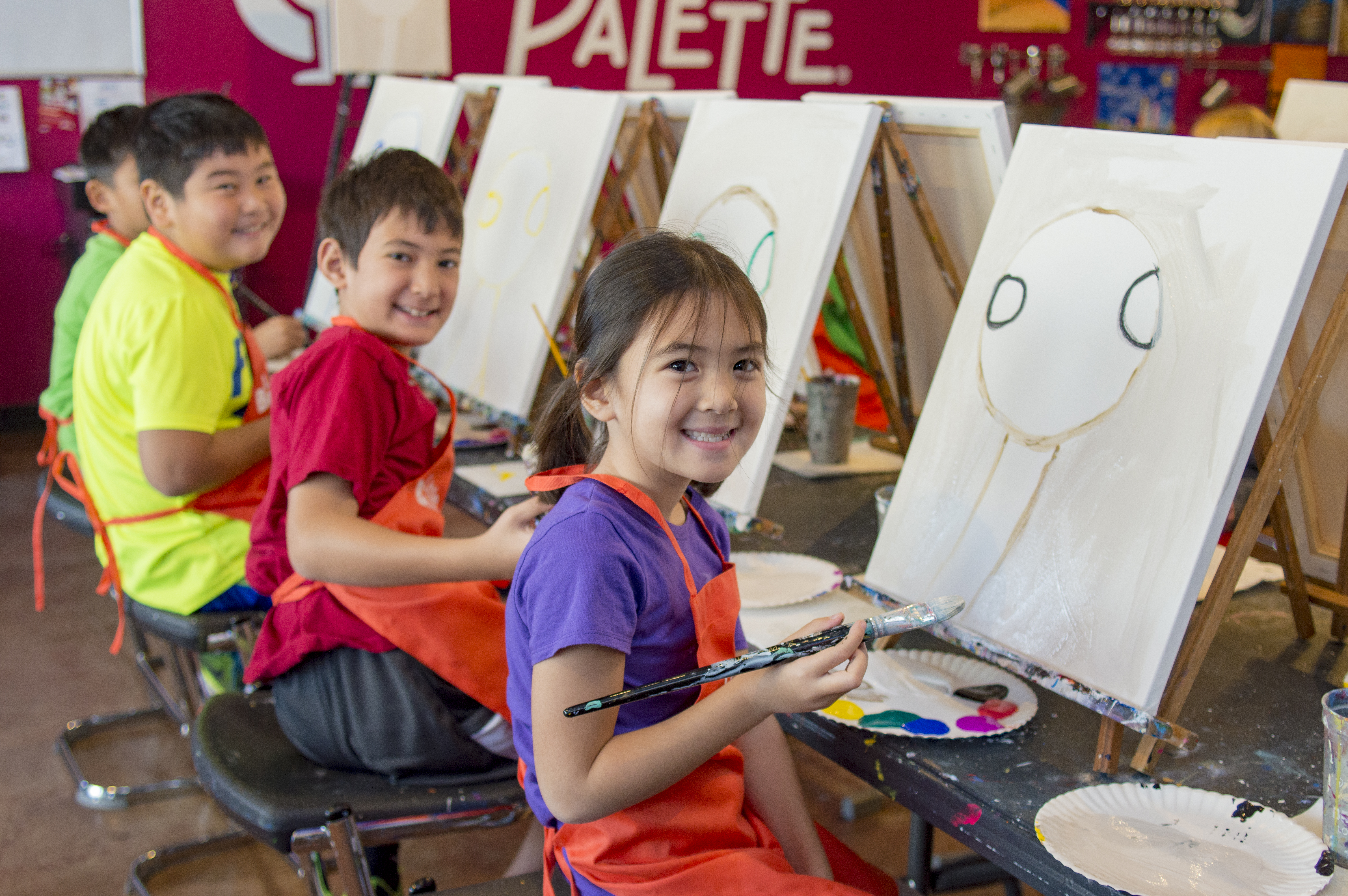 What are Little Brushes, Family Paints, Teen Nights?
Little Brushes are classes specifically for our younger painters. Drop the kids off for some creative fun.
Recommended for painters aged 5 - 12
Family Paints are intended for the whole family. It is a great opportunity to build family time into your day. We have a number of fun family paintings scheduled this December and January to help with the winter blues.
Teen Nights allow teens to escape homework, stress, and parents, while creating some art of their own.
Recommended for ages 13 - 18
Kids Birthday Parties
Birthday parties at Pinot's Palette La Vista is fun not only for adults, but also kids...whether they are in elementary school, middle school, or high school. They can listen to music, laugh, and create a painting to bring home. Birthday parties can be planned as a part of a Family Paint session or as a Private Party (with a minimum of 10 painters).
We have 2 birthday party options: 2 hour party $25/painter or 3 hour party with cake/drinks for $30/painter
Winter/Summer Camps
Our Little Brushes summer & winter camps for school aged kids will keep your kids busy, challenged, and of course, creative.
Although arts and crafts are healthy for both adults and children, they are important in the development of children. Children can gain improved creativity, focus, confidence, decision making, and even academic performance.
Information about our Little Brushes summer kids' camps:
This winter we have two Little Brushes Kids Camps: December 27th & December 28th. Kids Camp runs from 8:30 am - 1:00 pm. Kids bring a sack lunch and spend the day on painting, crafts, and fun activities.
The Little Brushes summer kids camp is five days long, Monday through Friday. Each day we will feature one of our paintings on an 11 x 14 canvas, a unique craft, and fun activity led by our professional artists. The crafts will reflect each day's theme (based on the painting featured). Crafts may include rock painting, glass painting, garden stones, frames, and Duck tape more.
The week-long summer art camp is only $200 for the entire week of arts, crafts, and fun. However, we are making the deal even better…We have an early bird registration deal which will reduce the week-long price to $150. Use discount code EARLYSUMMER19 during checkout (before providing payment) to get the $50 discount. Early Bird Registration discount is only good through April 30th, so don't wait until the price goes up.
Parents should send a sack lunch with their little painter(s), all other supplies will be provided.
• Time: 8:30 AM - 1:00 PM each day
• Recommended for children 6 - 12 years
• Prices
• $150/child during early bird registration. Last day for Early bird pricing: 4/30/19
• $200/week per child for the summer camp beginning 5/1/19
• $30/day per child for the painting only beginning 5/1/19
The Little Brushes summer kids' camps being offered this year are:
June 17 - 21 – Celebrate the Holidays (features a different holiday each day)
July 15 - 19 – Summer Fun (features fun animal & colorful black light paintings)
For all our little brushes programs cancellation/refund policy are as follows:
**FULL REFUNDS through MAY 31st - REFUND 50% of registration after JUNE 1st**
Whether spring, summer, winter, or fall...there are fun things for kids to do at Pinot's Palette La Vista.