Coronavirus Studio Updates
November 2020 Coronavirus Update - Keep an Eye Out for Upcoming Virtual Events!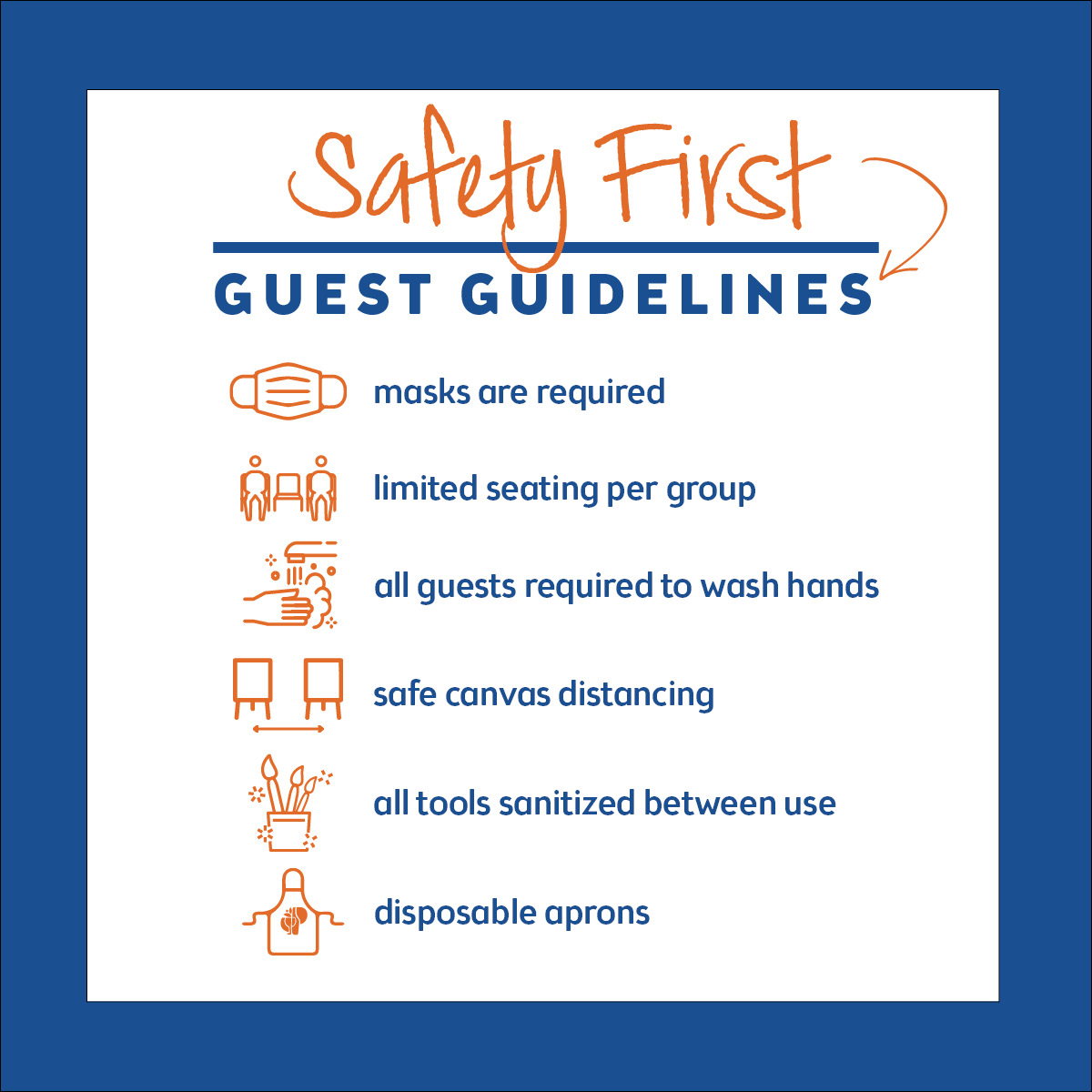 Hello everyone,
I hope you and your family are staying healthy. As you've probably heard, Coronavirus cases are rapidly rising here in the Chicagoland Area. Although a Stay At Home Order has not been announced, we at Pinot's Palette Elmhurst are doing everything we can to stay healthy and keep painting.
In Studio events will continue in a very limited capacity until a Stay At Home Order is issued. We revised our event schedule to include an hour of cleaning and sanitation in between every In Studio class and event. Everything from aprons to brushes to door handles gets sanitized. We also updated our Facemask policy. Masks are to be worn unless you are sitting in your assigned seat and eating or drinking. Our wonderful bar remains open, but we ask everyone to stay in their seats and access the menu using a QR code. We are counting on you to cooperate with us in keeping the Studio space safe and orderly so that Pinot's Pallet Elmhurst can continue to host In Studio events.
We recognize that not everyone is comfortable attending In Studio events, so we are expanding our Virtual Studio! This way we can stay connected and keep you painting in the safety of your home. Keep an eye on our Events Page to see new announcements and register for Virtual Events! If a Stay At Home Order is issued, we will switch to Virtual Events only.
If you have not joined a Virtual Event before, it's super fun and easy! First, you register for a Virtual Event. Then you stop by the studio to pick up your supplies. If you would like Curbside Pickup, please park on Third Street, give us a call, and we will bring you your painting supplies. Once you have your supplies, you will receive an email with a link for a Virtual Event. Then, on the day of the event, prepare your supplies, open the link, and Get Painting!
We will also be putting out new Video Tutorials and Take Home Kits on our Shop Page.
As always, our pickup days are Monday 12-2pm, Wednesday 3-5:30pm, Friday 12-2pm, and Saturday 3-530pm.
We hope to see you soon, in person or virtually. This is a scary time, but we hope that our paintings and programs can provide you a few hours of comfort and joy.
Thank you so much - Lina