A Creative Halloween At Home!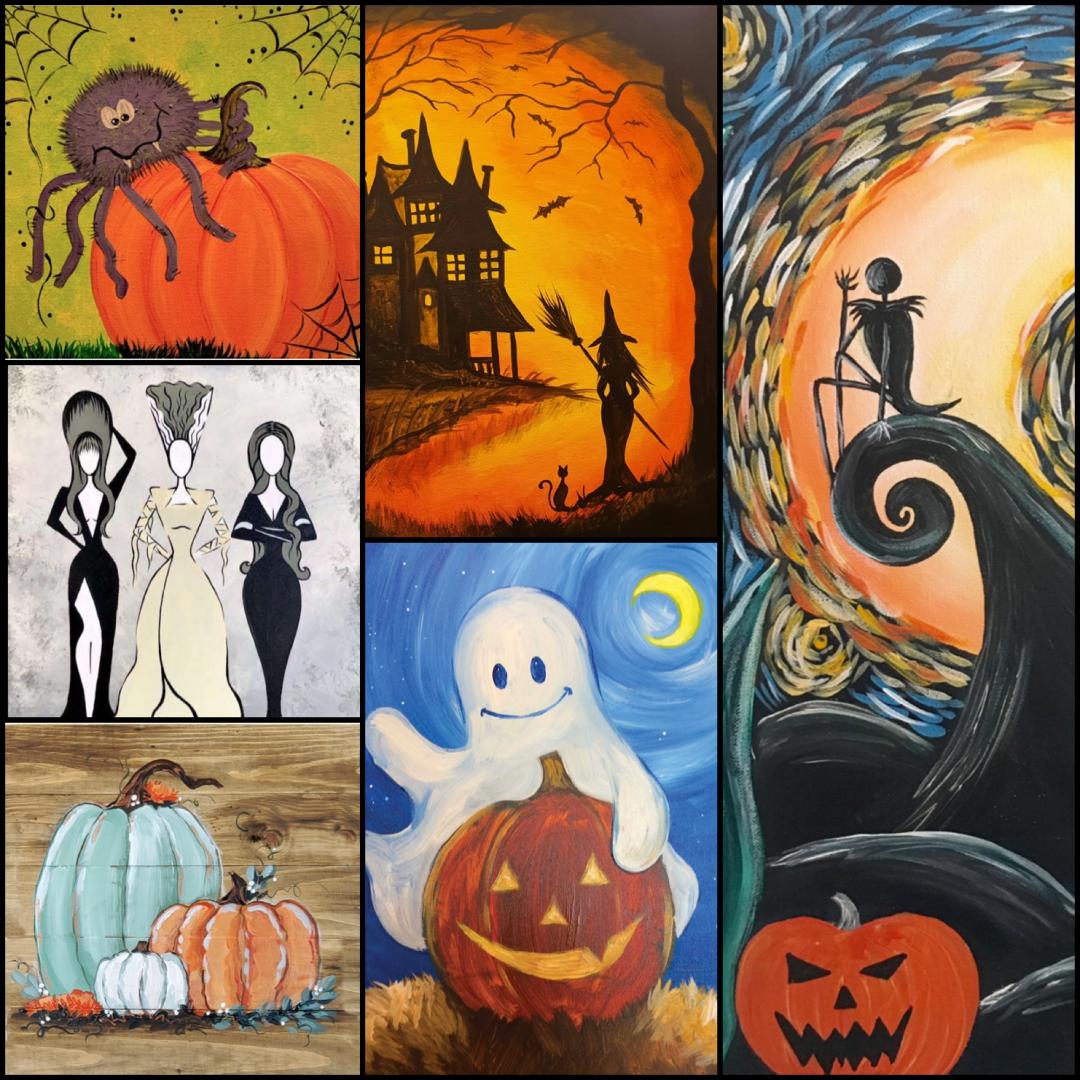 Halloween will be here before you know it! You're likely still planning the details of the year's spookiest day, but if you aren't sure of how to celebrate this creepy time of year, we have some ideas for you!
If you're interested in hanging at home with family or friends, we have TONS of virtual painting classes to offer you!
We will supply all of the materials you'll need to make art and you do the rest! Decorate your home, create some delicious cocktails, and serve some spooky appetizers to get the party started!
We've listed some of the fun paintings we're offering LIVE, as well as lots of artwork you can buy and create any time you want!
***** Take Home Paint Kits/Virtual Classes *****
Paint At Home Recorded Videos and Take Home Kits with Printed Instructions. Throw in some candy corn, put your video up on the big screen and you have everything you need for a SpookTacular Halloween for the family or for the whole block. Prefer not to use electronics? You'll love our take home kits with printed instructions. Something for everyone. Perfect activity for all ages.
Paint from the comfort of your own home!Paint at home video is for a 2-3 hour class and includes all supplies and link for video.
You can easily order online, pickup supply your kit at the studio, the login from home to create your masterpiece!
Purchase with ALL ART SUPPLIES or purchase the LINK ONLY.
Login any day, any time in the current month (if purchased the last week of the month, email us for a link valid thru the end of the following month for no extra charge).
Take home art kits include materials like: Canvas, Paint Brushes, Paint, Disposable Apron, Water Cup, Paper Plates for Art Palettes, & Paper Towels.
The link to access the class recording will be emailed to you within 24hrs of purchase.
You can also add an easel to your order when you go to the sign up page for each virtual class!
**Check these out:
https://menu...don-shop-fall
Make It A Spooktacular Event!
Food:
https://www....loween-party/
Games:
https://www....-party-games/
Costumes:
https://www....2021-48442447
***** In-Studio Classes *****
If you're interested in joining us LIVE in the studio for an in-person class, here are some of our favorties that are coming up:
Van Gogh's Starry Night Halloween -
https://www..../event/564078
All The Spooky Ladies-
https://www..../event/564093
The Pumpkin Carving King-
https://www..../event/493592
Moonlight Mischief (Family Day!) -
https://www..../event/564238
Sweet Glow Sugar Skull - BLACK LIGHT Class!!! Fun for all ages!
https://www..../event/564221
Haunted Moon - all ages! -
https://www..../event/564223
Starry Night At The Sandersons -
https://www..../event/564235
A Wicked Night - BLACK LIGHT Class!!
https://www..../event/564222
Sugarskull Beauty-
https://www..../event/564241
Violet Widow -
https://www..../event/564240
Share Our Full Paint Kits Shop | Our full in-studio calendar