NEW Artwork That You Can Be The First To Paint!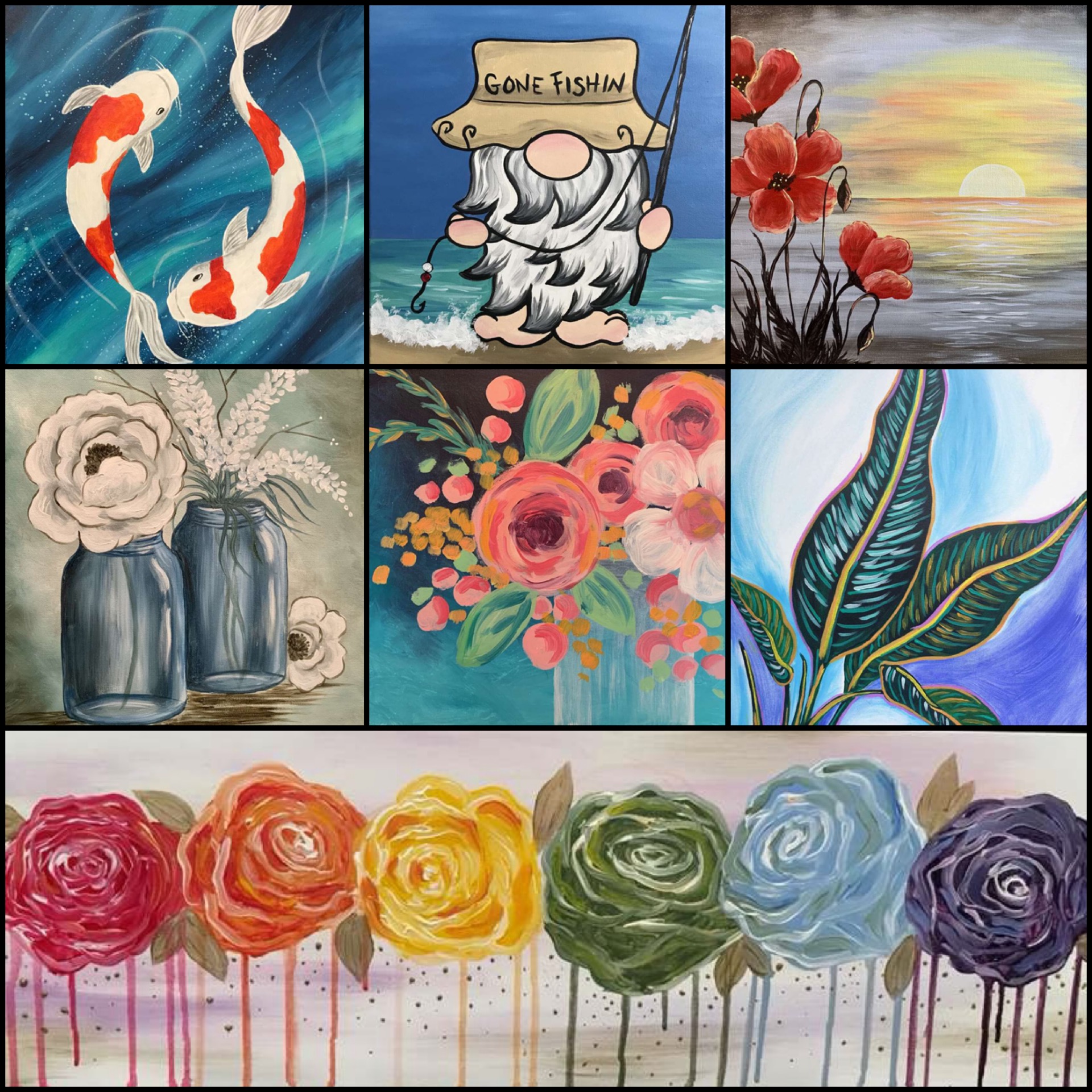 While we have many tried and true favorite paintings that we offer in our studio, we are always creating new works of art for our customers!
Our team of talented artists, located all over the US at various Pinot's Palette locations, are so create and talented and we enjoy seeing the new and exciting masterpieces they create for our millions of customers to paint.
We are offering many of the newest ones these next few months, and we hope you and your loved ones will join us to paint along wtih us!
The great thing about new paintings is that much of the time they adapt to new color and style trends, wokring most-beautifully in your living space. As always, we encourage you to change up the colors or anything else about your artwork to best fit your preferences and your home's decor!
We are SO HAPPY to be welcoming everyone back into the studio where we've been having some great live in-person classes.
We're taking all of the proper precautions and cleaning the studio regularly, seeing everyone germ-free and separated by distance.
If you're still looking for virtual ways to get creative, we have a good selection of virtual classes that you can paint from anywhere! Grab everything you'll need to paint from us here at the studio and paint from the comfort of your home, alone to relax or with loved ones to bond!
We are also still offering our wide selection of pre-recorded videos that walk you through the steps of the painting, anytime and from anywhere!!! These convenient videos let you make art when it's most convenient for you.
Learn more:
https://www..../brandon/shop
— NEW ARTWORK ON THE SCHEDULE —
Join Us For One (or more) Of These New Paintings:
5/22 Simply Beautiful
This beauty has a natural feel and look to it but also very elegant.
https://www..../event/539053
5/27 Poppies At Sunset
These eye-catching poppies radiate and shine in this beautiful sunset painting.
https://www..../event/539055
6/17 Rainbow Roses
An array of beautiful, blooming roses that drip with color and radiate positivity.
"Ew, David!" Join us for a fun night of painting and Schitt's Creek Trivia!!
https://www..../event/537017
6/17 Koi Serenity
Relax with a glass of wine and enjoy creating your own serene masterpiece!
https://www..../event/539701
6/19 Gone Fishin' Gnome
Take a little vacation and go fishin' with our Fishin' Gnome.
https://www..../event/536542
6/26 Sugar Coral Blossoms
Pour some sugar coral on your canvas and create a masterpiece that will add a sweet touch to your home decor!
https://www..../event/539704
7/3 Fun Foliage
Why limit houseplants to your windows when you can have this beautiful, fun foliage on your wall! Inspired by today's botanical craze, this painting is easy, customizable, and fun to paint.
https://www..../event/539702
7/8 Love You-calyptus.
Let the simplicity of this moment captured in time speak to you or to a loved one. Sometimes two words and a little greenery is all it takes.
https://www..../event/540134