HP At PP!!!! Harry P. Themed Artwork!
Harry Potter artwork? Costumes? Trivia? YES, PLEASE!!!!
Join us to celebrate Harry's bday with some special classes this July 31st!!!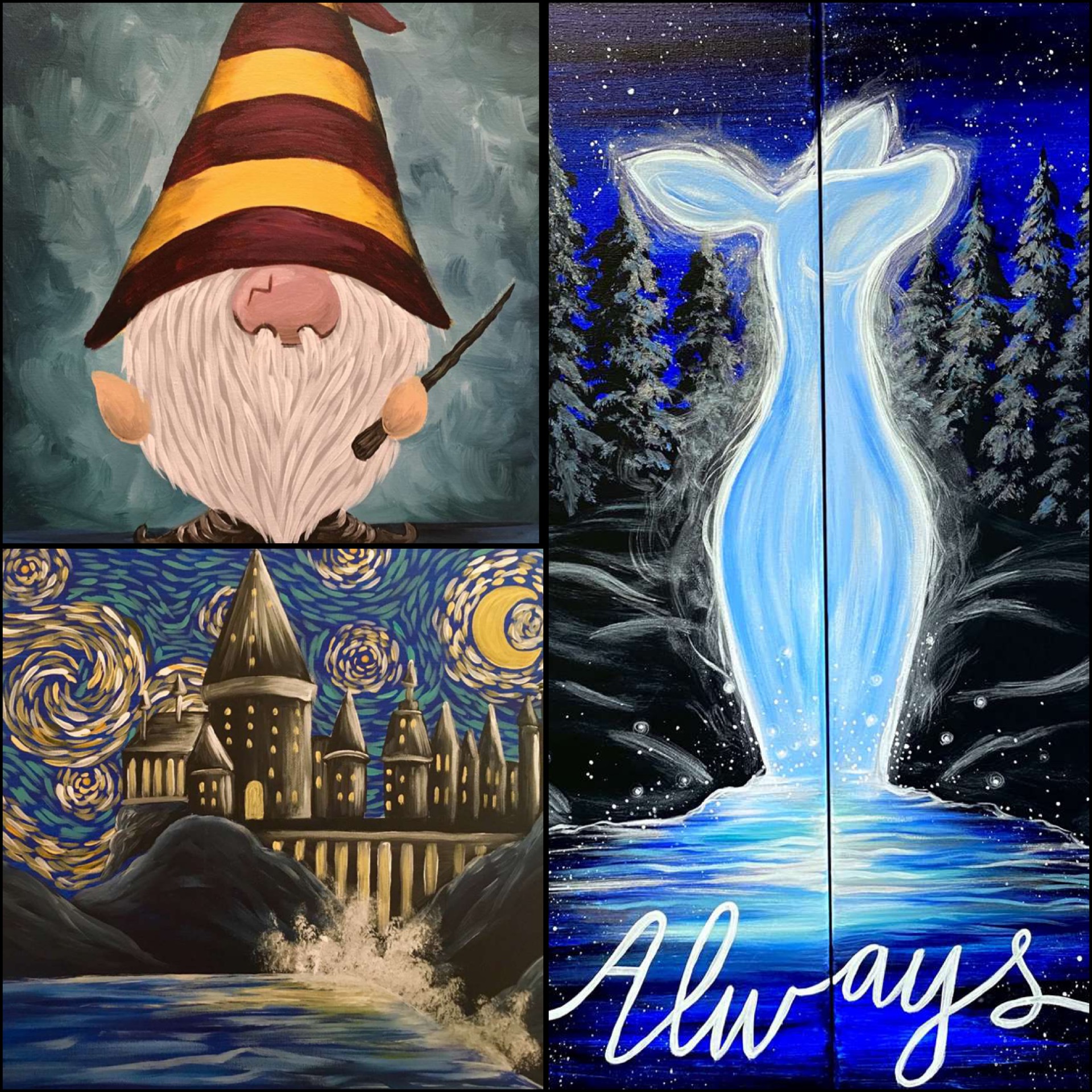 Calling All Wizards And Potterheads:
We're SO EXCITED to tell you all about some special upcoming classes that you and your loved ones will enjoy! All of the biggest Potterheads will be out celebrating Harry's bday on July 31st and our studio is all about some Potter love! We're offering THREE special paintings in the theme of Harry Potter for all of you to come and create.
We will be giving out prizes for costumes, so be sure to dress up!
There will be trivia as we paint, too! You'll be competeing against other Potter fans as questions are read and prizes are given out for the ones who know the most about the book/movie series!
JULY 31st — MAGICAL GNOME
What a hairy and magical gnome waving his wand around! This adorable little guy is clothed in the colors of Gryffindor, with a Z-shaped scar on his head. Cute and fun, this gnome painting will look great in your home OR would make a nice gift for the ultimate Potter fan!
https://www..../event/551638
JULY 31st - Starry Night Wizard's Castle
This painting will be perfect for any wizard that wants to combine a famous painting with a famous book. We're combining some of our most favorite things: Vincent Van Gogh's artwork and Harry Potter! Make Hogwarts in the post-impressionistic style of Van Gogh himself!
https://www..../event/551636
JULY 31st - After All This Time - *Date Night Class!!!
A magical painting for a magical evening out with your loved one. This collaborative work of art is painted on 2 LONG canvases; You'll create half of the artwork on your canvas as your date paints the other half on theirs! Push them together at the end of the night to make one large work of art!
https://www..../event/495307
—— AND MORE ——
**Speaking of Van Gogh:
JOIN US on August 6th to paint 'Van Gogh Les Iris'
This simplified version of one of the most treasured Van Gogh paintings uses expressive brushwork and a variety of beginner techniques that are perfect for your Pinot's Palette experience.
https://www..../event/551680
OR, on August 13th to paint 'Psychedelic Starry Night'
**This is a BLACK LIGHT CLASS!)
This vibrant take on Van Gogh's Starry Night is just as fun to paint in the daylight as it is under blacklight. The glowing color palette is easy to customize, and the simple design is very beginner-friendly. Join us and paint your own technicolor masterpiece!
PAINTING IN THE BLACK LIGHT ROOM! WEAR YOUR GLOW COLORS.
https://www..../event/544977
For a distingushed Harry Potter themed work of art that would look elegant in any room, JOIN US:
On August 13th to paint 'Golden Gaze'
This watercolor-esque rendering of a barn owl is both expressive and easy to customize.
https://www..../event/552340